Boardroom wall art helps create more vibrant, creative, and productive corporate and enterprise spaces.
The world-famous Hilton hospitality chain maintains a flagship location in San Diego adjacent to Newport Beach's iconic Fashion Island. Recently, the property's ownership group approached our studio seeking custom boardroom wall art to vitalize its corporate meeting and lobby spaces. Our consultants and designers responded by proposing three sets of bespoke artwork for display in these high-profile, high-visibility areas.
Several of the works were designed for three lobby spaces within the Hilton office complex. Each of these collections features colorful, large-format pieces that perfectly meet the client's objective of capturing the property's grand sense of elegance and exclusivity. Using warm hues and abstract styles, our studio executed a series of successful works that dramatically invigorated the spaces in which they now live.
We also contributed wallcoverings to the property's meeting rooms. These examples of custom boardroom wall art provide a striking and colorful counterpoint to their neutral tones and wood finishes. They make a bold, expressive statement that captures the visual essence of creative thinking.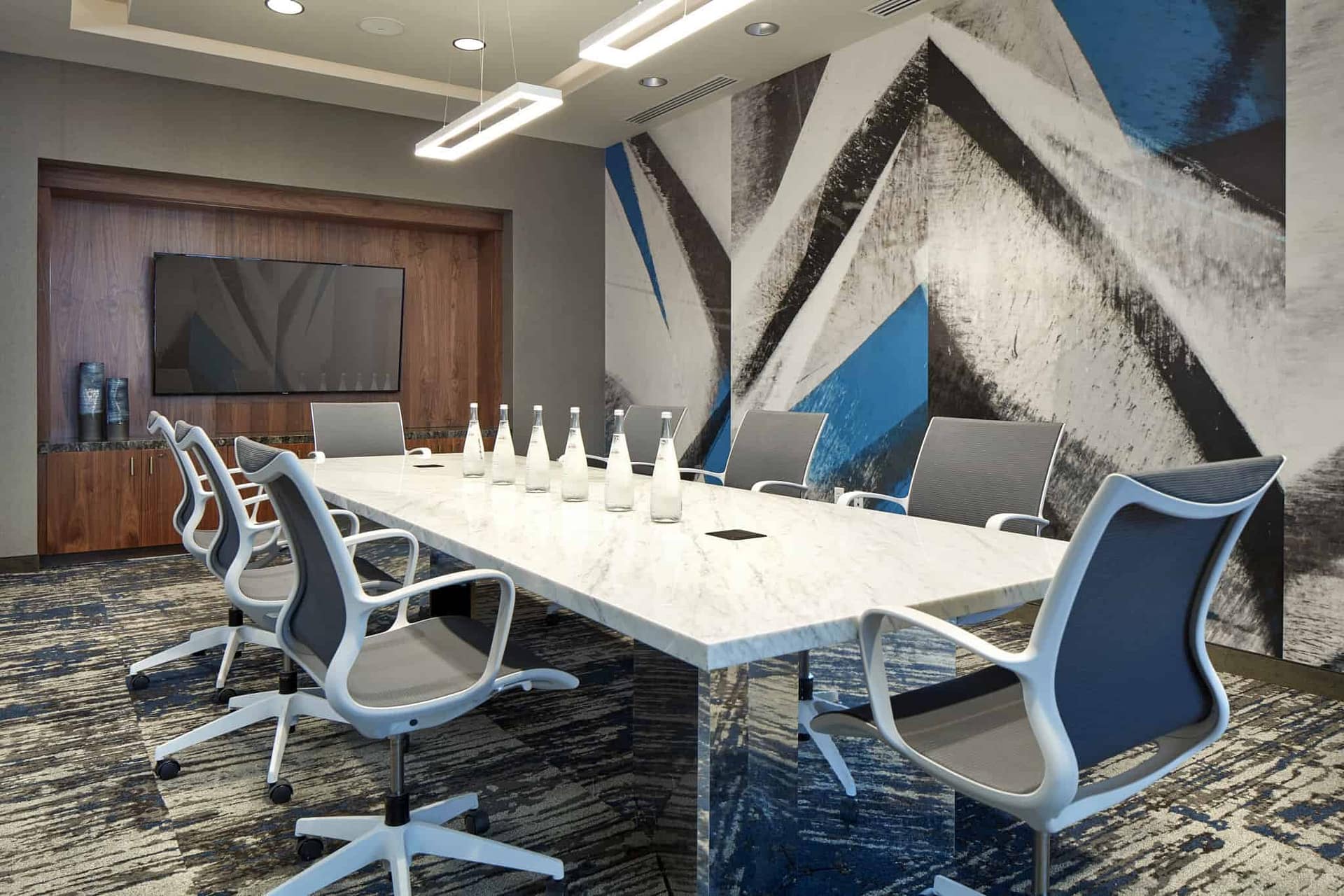 WRAPPED Studios creates custom boardroom wall art in a multitude of established and innovative formats.
Our Southern California art collective develops and creates custom boardroom wall art in a full range of formats. Clients can choose from a complete set of both classic and emerging media, with options ranging from traditional canvas paintings to aluminum artworks, digital and video art, and made-to-order murals and wallcoverings.
You can explore more of our recent work for corporate clients in our project portfolio, with key examples including:
We begin by matching every client with a dedicated art advisor, who provides consulting and developmental services. From there, we generate multiple project proposals, from which our clients choose their preferred forward path. Because we prioritize in-house assets over expensive external contractors and service providers, we are able to create stunning custom boardroom wall art at surprisingly affordable prices.
To learn more or schedule your initial consultation, please contact WRAPPED Studios.