Custom gym wall decor creates a personalized experience that adds value to fitness facilities.
Calypso Apartments and Lofts is an upscale multifamily residence in the Los Angeles area. The building's interior design firm recently retained WRAPPED Studios to create custom gym wall decor for the complex's onsite fitness facility.
Though not traditionally a focal point of interior design initiatives, fitness facilities have drawn increased attention in recent years. This is especially true of gyms in residential complexes and hospitality properties, where image management plays a vital role in sustaining financial success.
Custom gym wall decor affords property managers the opportunity to transform large unused surfaces in high-traffic areas into branding opportunities. This functions as a vehicle for cultivating closer, more personal connections with residents and guests. 
Residential complexes can leverage this strategy to achieve lower vacancy rates and increased levels of tenant satisfaction. In hotels and resorts, custom gym wall decor helps build a thematically unified guest experience, which has an understated but potent impact that can encourage customers to return in the future.
Our team's work at Calypso Apartments and Lofts offers a high-impact example. Developed by our interior design art consultants and executed by our talented in-house artists, this dramatic wallcovering succeeds at its core objective of creating a tranquil, positive space where people enjoy spending extended amounts of time.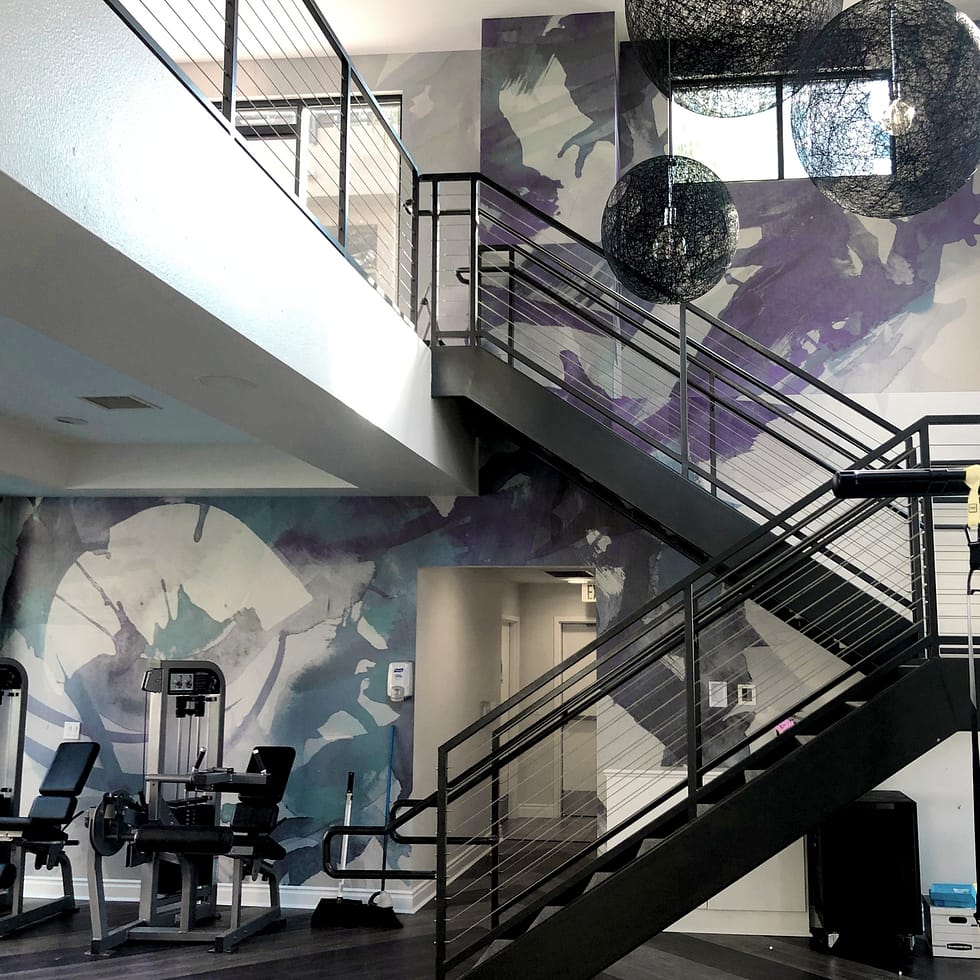 Trust the WRAPPED Studios team to guide your custom gym wall decor procurement experience.
The Calypso project was inspired by the client's ideas, which our consultants excel at interpreting and building into actionable insights. However, clients do not need to have a specific goal, strategy, or artistic concept in mind when turning to WRAPPED Studios. Our consultants also excel at conceiving and refining impactful and successful custom art strategies without any specific client-end input.
Custom gym wall decor makes it far more pleasant for people to spend lengthy periods of time in fitness facilities. This yields positive benefits for everyone, as property managers reap the rewards of more satisfied tenants and guests while gym visitors make consistent progress toward their personal goals.
The procurement process begins with a detailed one-on-one consultation with a WRAPPED Studios expert consultant. To arrange yours, or to learn more about our studio and its capabilities, please contact a member of our client services team today.