Our residential art consultants have helped define and beautify dozens of multi-family communities.
Multi-family and high-density housing communities have to work to differentiate and define themselves in a competitive marketplace. Custom art is one of the best ways to achieve this, as it allows building managers to turn vacant and underused wall space into a branding opportunity. The expert residential art consultants at WRAPPED Studios have extensive experience helping condominium and townhouse communities forge stronger, more direct connections with the kind of residents they want to attract.
Strategically placed custom-made artwork has a subtle but strong effect on viewers and residents. It enhances the overall character of residential communities, helping building managers strike just the right atmosphere and tone. This, in turn, influences prospective tenants and buyers by creating an intuitive and powerful emotional bridge between them and your property. Art thus helps reduce vacancy rates and retain desirable tenants for longer periods of time.
This is how custom art can generate a positive return on your investment. Our expert art consultants are here to guide you through the process, and they will work closely with you to build a complete understanding of the exact demographic you're looking to attract.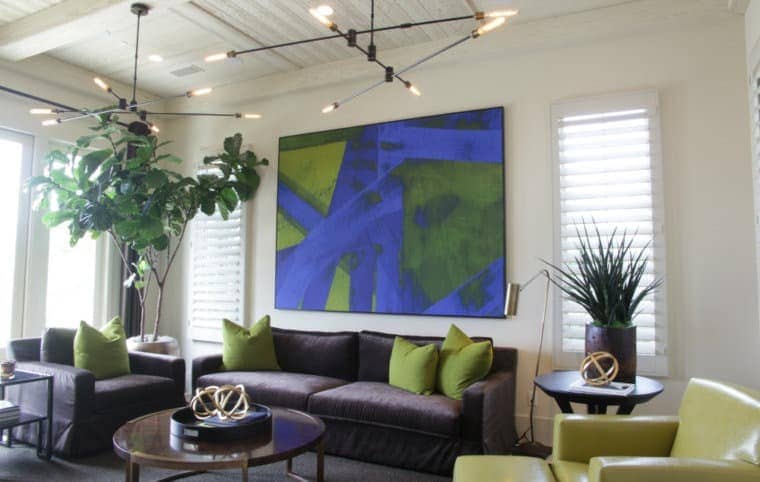 You can also trust our residential art consultants to provide the same level of expertise on projects for private homes.
Our client base also includes some of the world's most accomplished and discerning private art collectors. The residential art consultants on our Venice, California-based team are also available to help homeowners achieve their interior design objectives and enjoy unique expressions of their artistic and creative tastes.
Most of our private residential clients are simply looking for one-of-a-kind ways to beautify their homes, but custom art can also be used to help increase the resale value of your property. When strategically used in an upscale residence, custom fine art can create a greater sense of exclusivity and demand in prospective buyers, which can then translate into better offers and more profitable sale prices.
The entire WRAPPED Studios team is here to help you create a more desirable multi-family community and a more livable, enjoyable home. It all begins with a detailed session with one of our experienced and knowledgeable residential art consultants.
To learn more, or to set up your one-on-one consultation session, please contact a member of our client services department.