DIGITAL WALLCOVERINGS: WHAT ARE THEY AND WHY SHOULD YOU CONSIDER ONE?
Digital wallcoverings are innovative interior design products that use various electronic technologies to enhance the visual character and functionality of walls and other static architectural elements. The term covers everything from interactive walls to custom murals created with advanced new media methods.
Though digital wallcoverings are used in all sorts of settings, they have been making particular inroads among commercial, hospitality, and residential clients seeking to augment high-traffic areas in their properties. One main driver of this trend is the unparalleled branding opportunities offered by digital wall treatments: their fluid and interactive nature give clients precision control over the marketing messages they convey.
Digital technologies also alter and refine the character of interior spaces in targeted ways, enabling clients to communicate their refinement and align themselves with crucial values and principles. This post introduces some of the more popular digital wallcoverings available and examines their impact potential.
Digital Wallcoverings: Popular Formats
Interactive walls
Interactive walls feature embedded screens that display moving images and videos. They also house sensors that allow viewers to enter input via touch and motion, creating an interactive experience.
The images and videos can serve a purely aesthetic purpose, but most interactive walls are designed to convey information. For example, businesses may use them to create guided virtual tours of their company history. A viewer could look at a visual representation of important historical milestones in the company's past, then touch an icon to learn more about a particular moment in the organization's story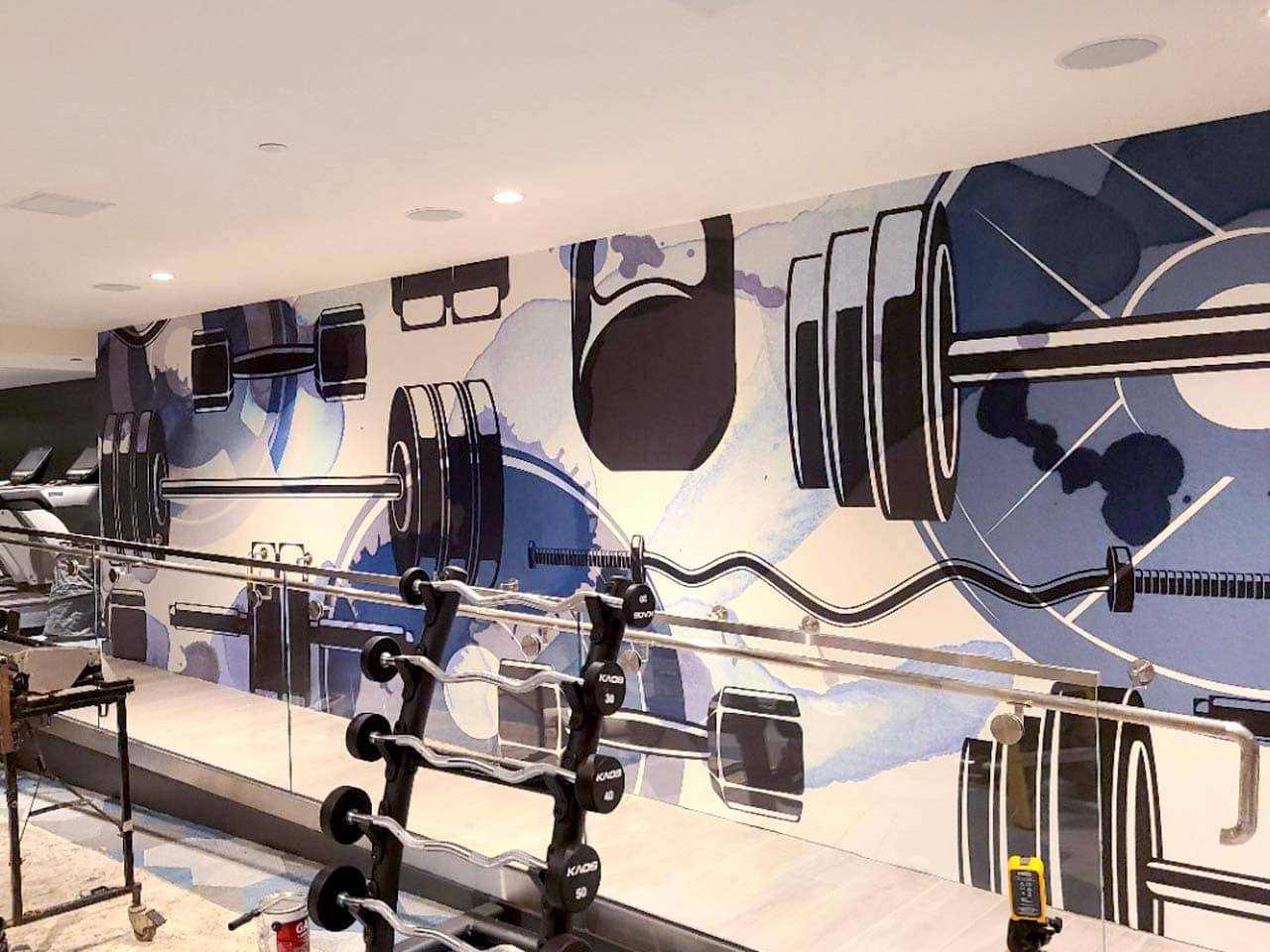 Digital wall murals
Murals are one of WRAPPED Studio's specialties. We create custom murals using traditional media, but our capabilities also include large-format wallcoverings made with digital technology.
Solvent-based and UV printing techniques can be used to render a prefabricated image onto a special adhesive surface, usually mylar, vinyl, or paper. The resultant mural is then affixed to a temporary or permanent home, indoors or out. Digital imaging technologies are capable of creating anything the imagination can conjure, from stylized scenes of fantasy to photorealistic renderings that blur the line between art and reality
Video artwork
Walls make excellent video artwork exhibition surfaces, with projectors and built-in screens constituting the two primary display media. As with interactive walls, video artwork can serve both aesthetic and practical purposes.
WRAPPED Studios features a long and growing list of accomplished video artworks in its project catalog. Particularly successful recent examples include: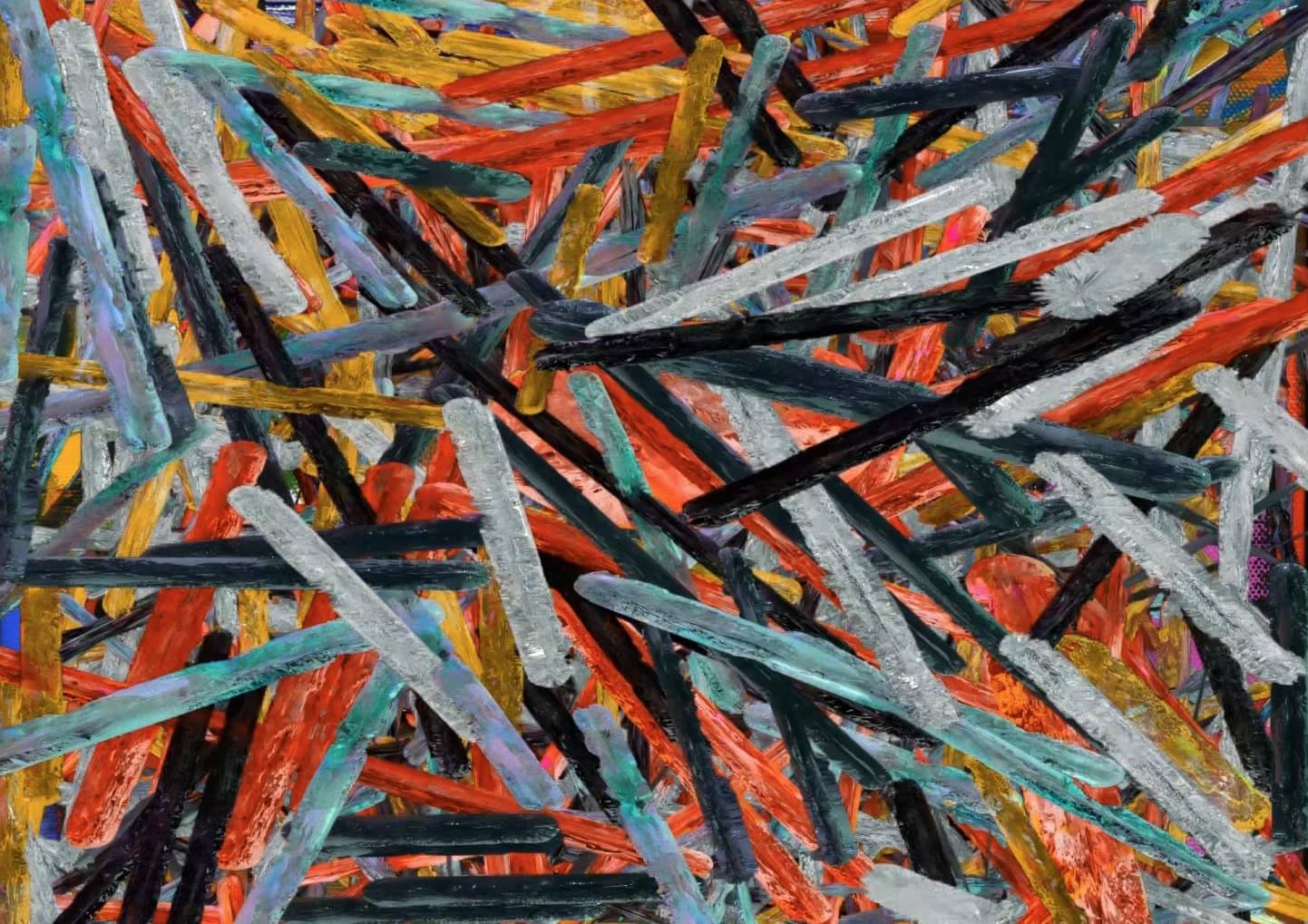 Clients can order copies or variations of existing video artworks, or have our studio create a customized, made-to-order piece.

Where Are Digital Wallcoverings Used?
Commercial clients tend to realize the greatest value from digital wall treatments in settings including:

Corporate or professional offices:

Digital wall treatments offer a wealth of branding opportunities to businesses seeking to express their values. They also create the kind of sophisticated and avant-garde spaces many professionals seek to cultivate in positioning themselves as refined experts with advanced insights.

Multifamily residences:

High-density properties can make strategic use of digital wall treatments to enhance the aesthetic and functional appeal of their shared indoor spaces. This, in turn, can lead to benefits including lower vacancy rates and lower tenant turnover rates.

Hospitality properties:

With homestays now competing hard with hotels, hospitality operators face a more challenging landscape than ever before. Digital wall treatments offer hospitality businesses a unique and memorable way to create that coveted emotional connection that fosters a positive experience and keeps guests coming back.

Retail spaces:

Retailers can potentially realize

enormous benefits

by embracing digital technology as a strategy for creating a more fun and interactive shopping experience.

Artwork can live practically anywhere, especially in the age of advanced digital media. Digital wallcoverings excel at transforming overlooked and underutilized spaces into dynamic hubs of creative energy. Our expert in-house art advisors can help clients discover innovative and novel applications for all types of digital wall treatments
WRAPPED Studios creates custom digital wallcoverings and artworks for a global client base
Based in the Los Angeles area, WRAPPED Studios has enthusiastically embraced emerging technologies and their potential for creative expression. Our advisors, artists, and technicians have extensive experience creating made-to-order artwork for commercial clients across a multitude of industries. We use a client-focused approach that prioritizes your unique tastes to create bespoke pieces that align perfectly with your objectives.

Our team is pleased to work with a global base of clients in practically any industry. To learn more about our studio's capabilities for creating digital wallcoverings, or to arrange a consultation, please contact us.