Custom artwork is ideal for any client looking to curate a creatively invigorating and tasteful space. It is especially appealing as an alternative to sourcing work on secondary art markets.
Here's why:
Despite the ongoing challenges of the COVID-19 pandemic, 2021 was another successful year for the entire WRAPPED Studios team. We found innovative ways to stay safe and productive, enabling us to continue providing our signature suite of world-class art consulting and custom art production services.
Clients from across the country engaged us to create commissioned artwork in 2021. We met their requests with start-to-finish support, from design ideation to installation. Here's a curated showcase of some of the year's most successful projects.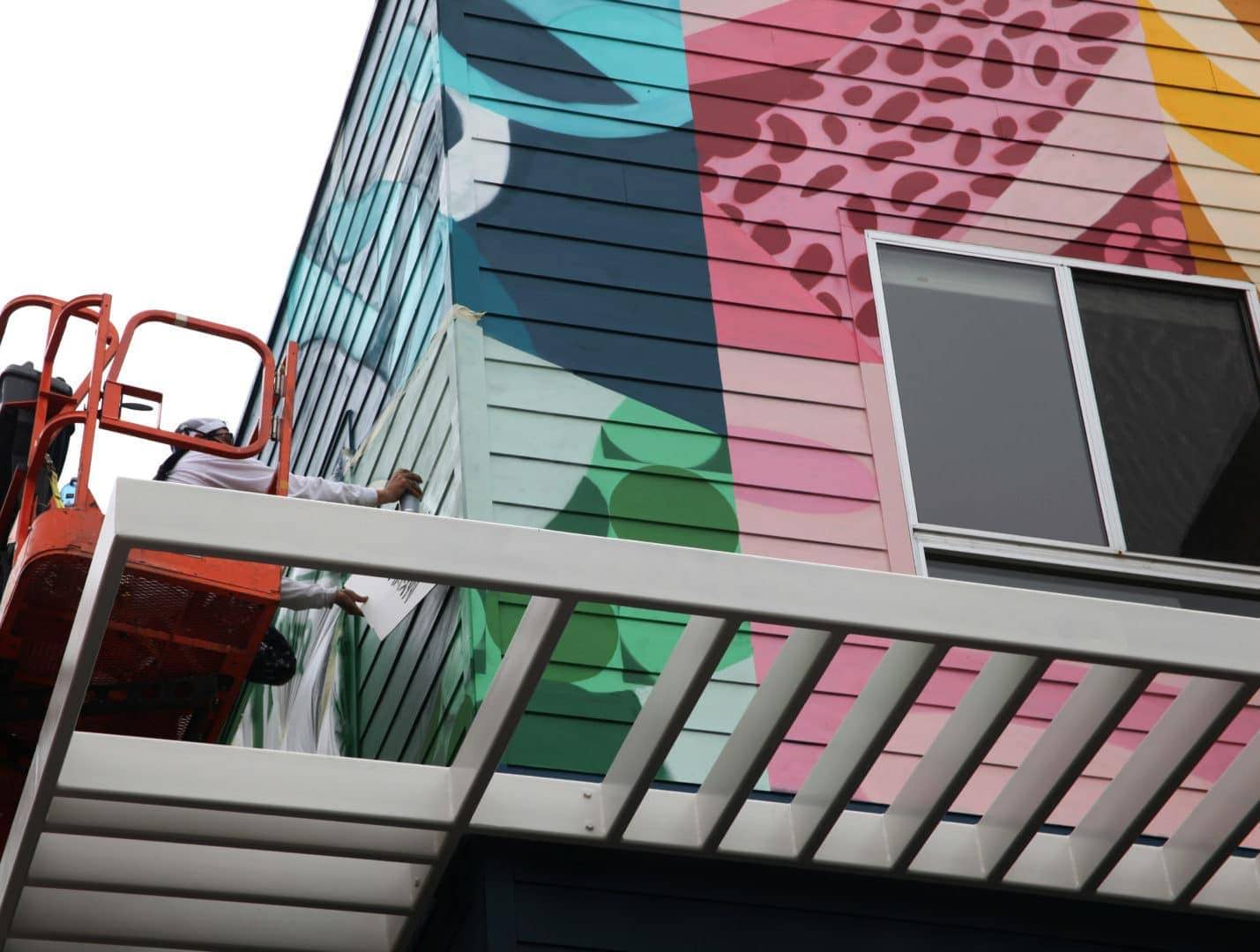 Venice on Rose
The Venice on Rose project marked a productive collaboration between our studio and Hibner Design Group on a series of large-format exterior murals. The artwork was commissioned as part of a full-scale redesign of the Venice on Rose complex. WRAPPED Studios contributed three full-size murals to Venice on Rose, the most prominent of which occupies the wall of a top-floor unit at the intersection of Rose and Rennie Avenues. The artwork has quickly become a high-profile neighborhood landmark, attracting the attention of both locals and visitors while delivering powerful marketing benefits to Venice on Rose's management group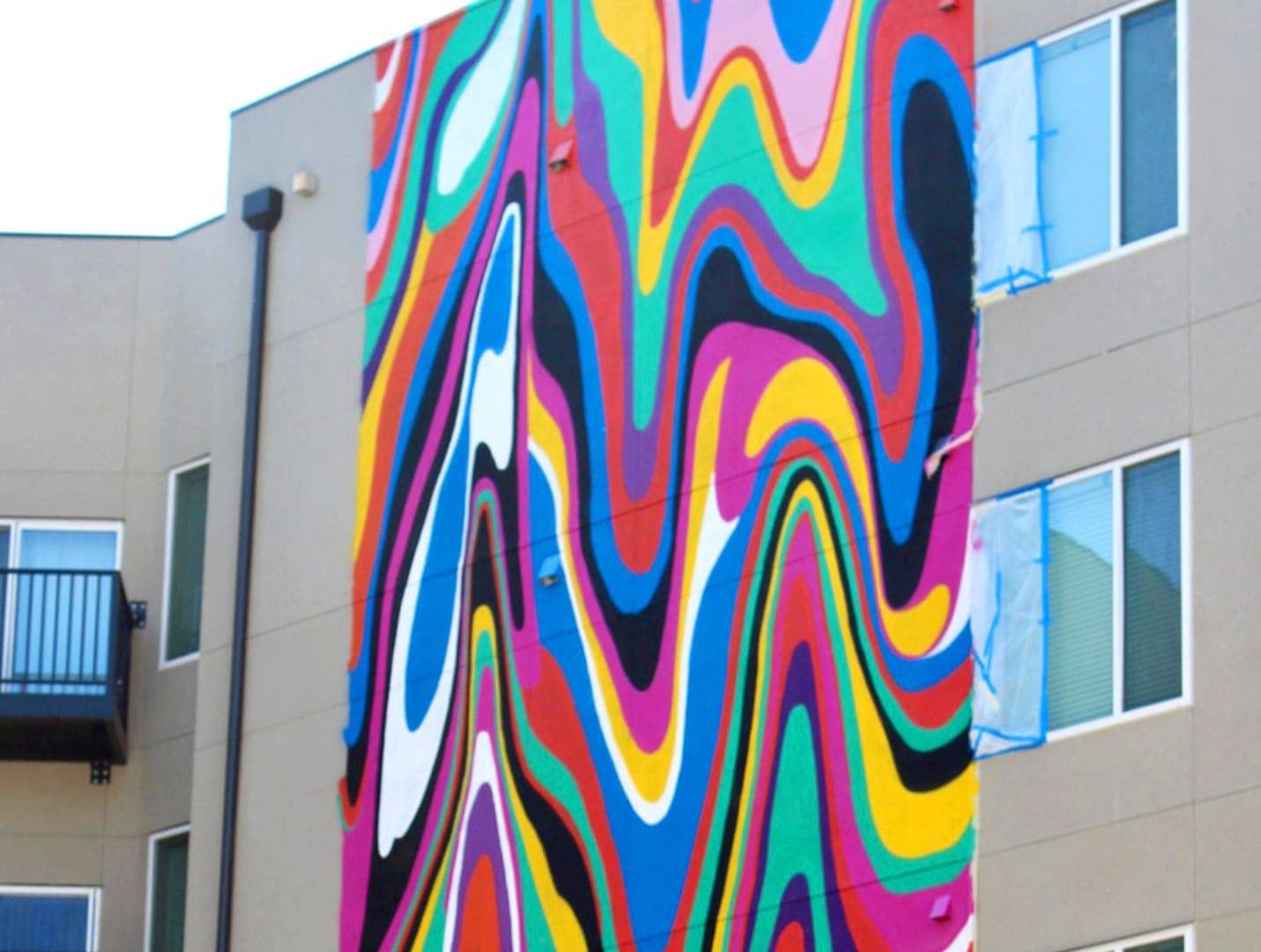 Parkside
The innovative Milender White construction company commissioned the Parkside murals to enliven the newly built complex with vibrant, large-format works of art. We proudly contributed two pieces: a high-visibility paint-drip exterior mural drizzling with rich color, and an interior wall mural that playfully presents Parkside's logo in multiple orientations.
Parkside

and

Bluebird

were technically two separate projects, but they were installed simultaneously at host locales in Colorado.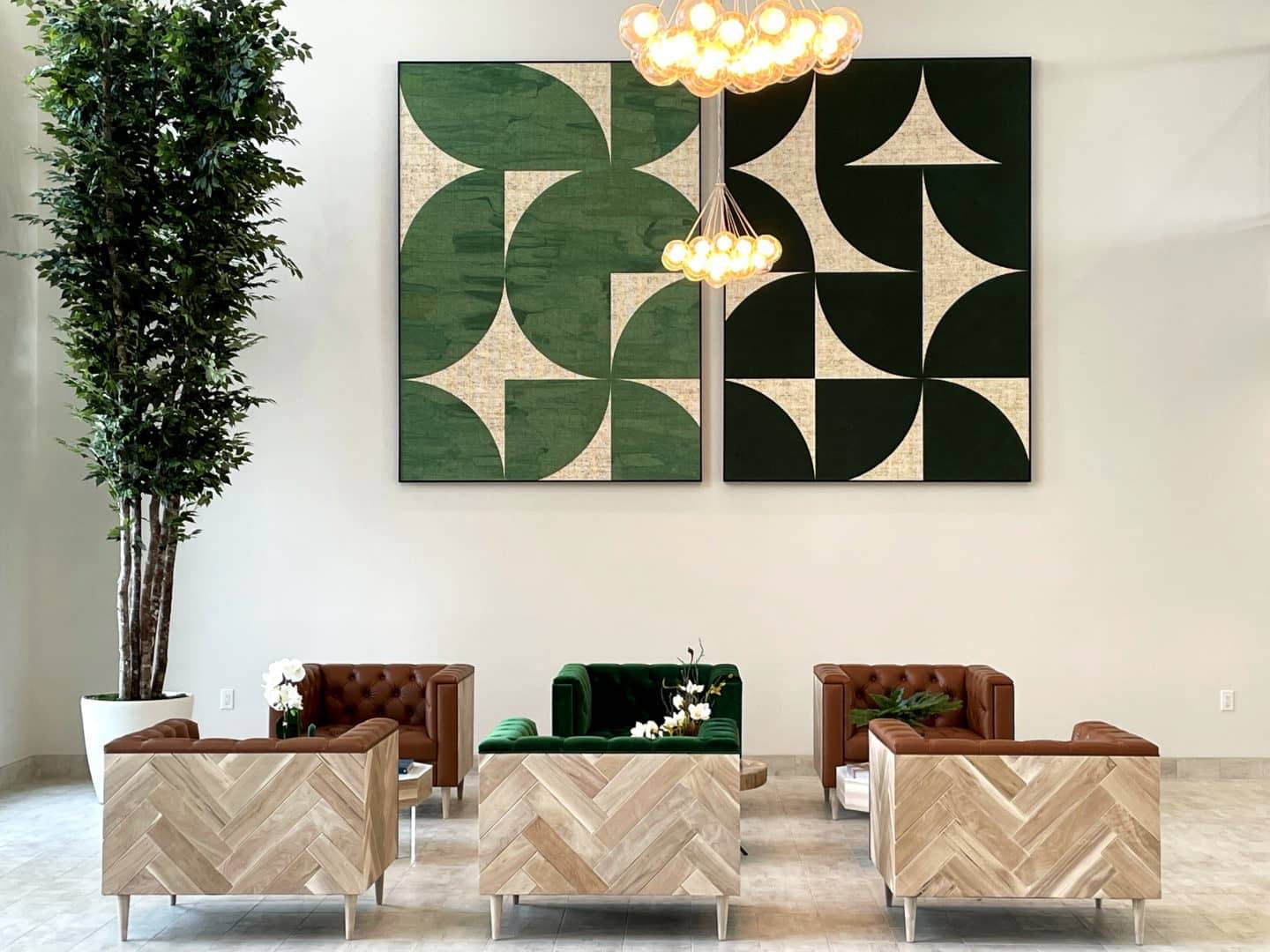 St. Francis
M&R Development invited us to contribute original artwork to St. Francis, a sophisticated residential development in Milwaukee. We conceived, developed, and executed a series of large-format canvases for display in the building's lobby areas. The resultant artworks enhance the space's established color palette and beautifully complement its existing fixtures, furniture, and equipment.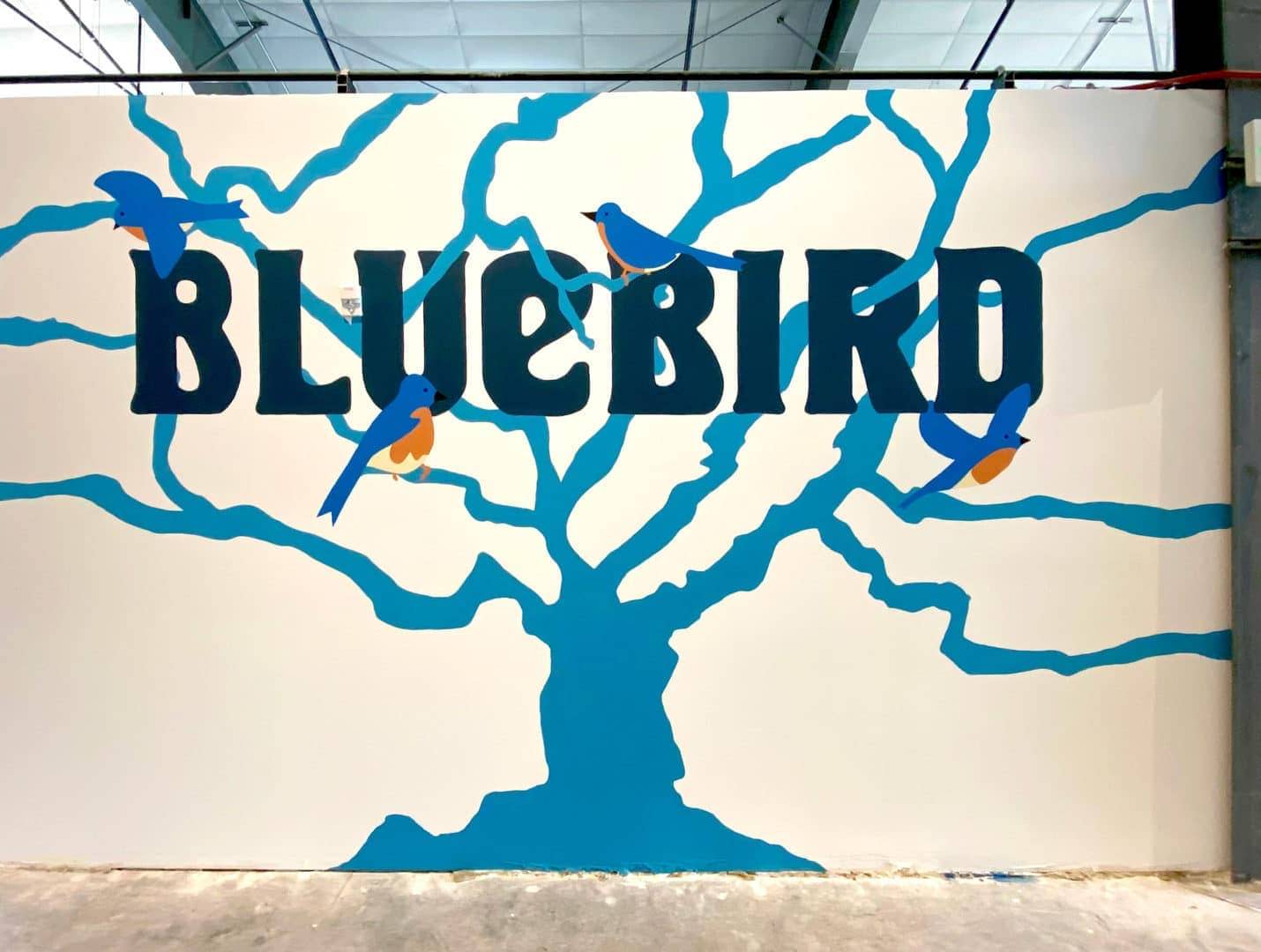 Bluebird Market
Milender White also retained our services for the Bluebird Market, a newly built retail, dining, and events complex in Silverthorne, Colorado. The stunning hand-painted murals we created for the market were inspired by the area's wondrous natural beauty, mining history, and thriving outdoor culture. The main mural uses representational elements to recreate Colorado's dramatic and breathtaking landscape elements, while the second mural utilizes Bluebird's branding to create a focal centerpiece in the property's main dining hall.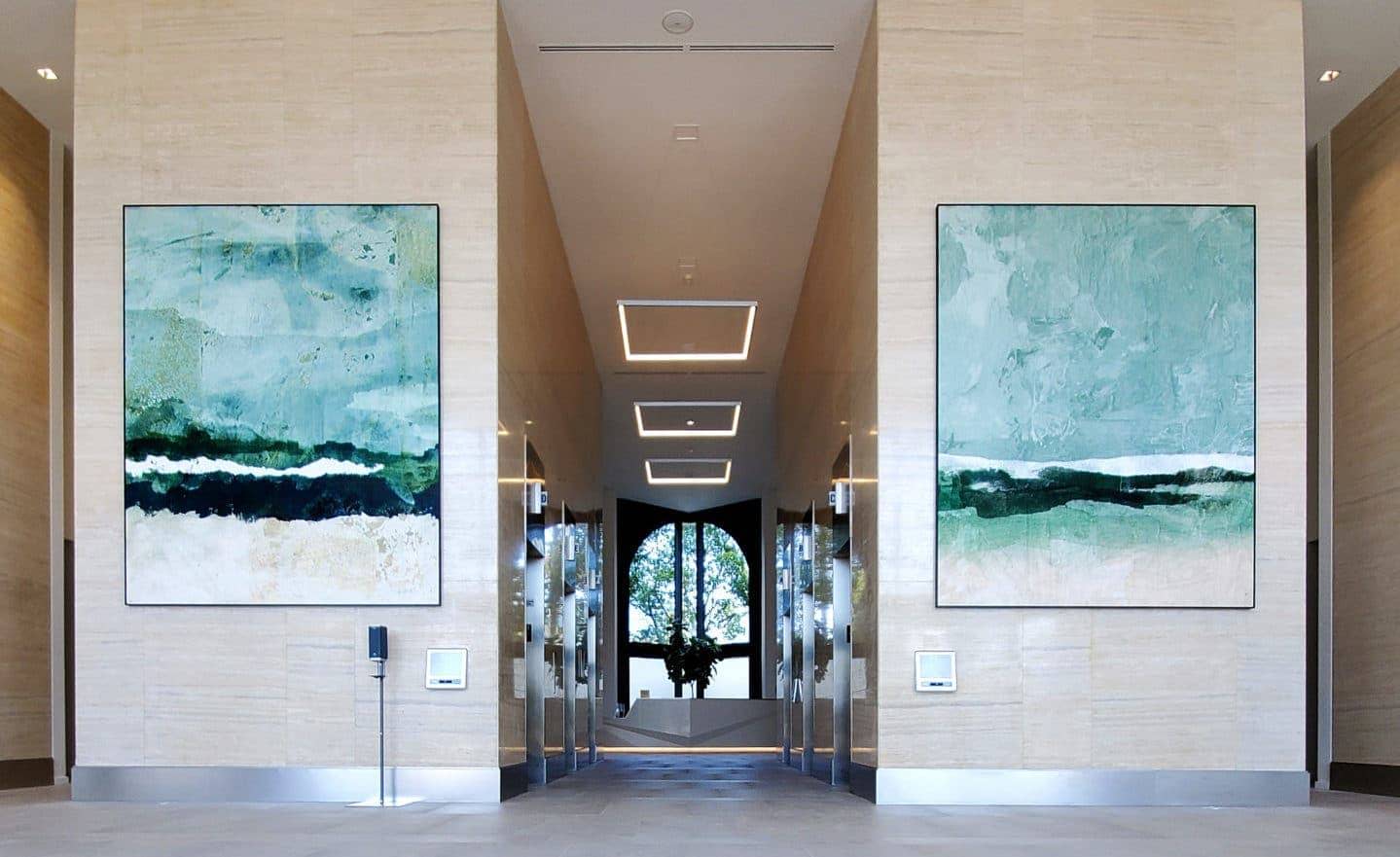 City Plaza
The prestigious San Francisco-based Gensler architecture firm approached our studio for this exciting commission, which was carried out as part of a renovation project at the City Plaza corporate center in Orange County. Our creative development team proposed a large-format diptych on traditional canvas to capture and express the building's serene sense of rarified elegance.
As 2022 approaches, our studio has an exciting and growing list of custom projects lined up. We anticipate another successful and productive year ahead, marked by artistic success and client satisfaction.
WRAPPED Studios continues to welcome commissions from clients located anywhere in the world. Our forward-facing Southern California artistic collective specializes in creating custom artwork in a full range of artistic formats.
We warmly invite prospective clients in the residential, corporate, institutional, retail, and hospitality verticals to contact us for assistance if you'd like to enhance the aesthetic appeal and impact of your interior design strategy. Our professionals also collaborate with businesses on licencing artwork for use in manufactured products, and on many other artistic and creative projects.
To learn more about our suite of services or inquire about scheduling a consultation, please get in touch. In the meantime, we wish you health and happiness in 2022 and beyond