See our custom residential art experts at work in 1641 Lincoln, an upscale apartment complex in Santa Monica. 
Property management groups frequently approach our studio in search of custom residential art, which helps their branding and marketing efforts. One recent example occurred when Cypress Equity commissioned us to create artwork for an upscale new Santa Monica apartment complex at 1641 Lincoln. The property has since been renamed Junction Santa Monica.
Cypress Equity specifically sought a collection of custom murals for the complex's shared interior areas. After reviewing the site-specific features of the property, our residential art consultants and creative team convened to develop an approach. Together, our experts decided on a multi-tonal ocean-inspired design in the blue color palette.
The client approved our proposal, after which our artists carefully executed the planned work. The final custom residential art project wraps around multiple adjacent walls, doubling as a wayfinding mechanism while invigorating the building's interiors.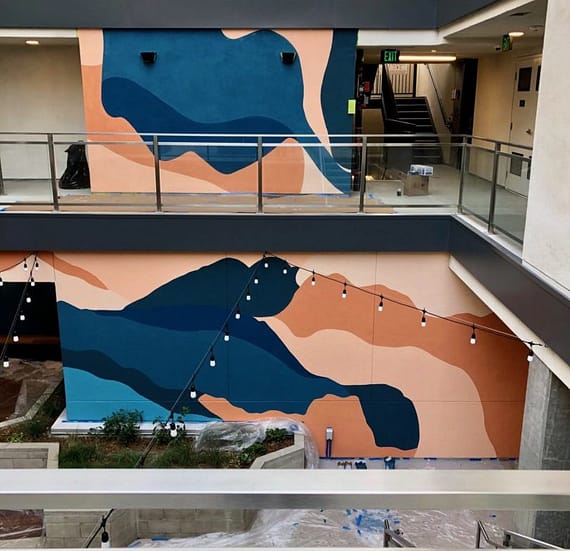 Custom residential art helps property management groups achieve multiple high-priority objectives. 
As Cypress Equity understands, artwork can significantly elevate a property's lifestyle value. Custom residential art helps create a sense of refinement and exclusivity, both of which appeal to prospective tenants of upscale developments. To this end, they can achieve several important goals:
They help attract higher-quality tenants, which supports efforts to cultivate a positive profile for the property

Custom residential art can reduce vacancy rates by improving existing tenants' overall satisfaction

Improved long-term tenancy cuts down tenant turnover, thereby reducing property management and operational costs
Viewed through this lens, custom residential art can make an excellent investment. In many cases, it proves to provide multiple helpful boosts to the bottom lines of multifamily residences, which often operate with little margin for vacancy and tenant turnaround.
Our custom residential art experts are happy to work with clients based anywhere in the world. The process begins with a one-on-one consultation session, during which you can explain your desires and objectives. Our expert consultants will then develop multiple possibilities for the project, which we will submit for your approval.
To learn more about the process, or to schedule your first session, please contact us.