The WRAPPED Studios corporate art consulting team guided the successful creation of a beautiful custom collection for Pacific Financial Plaza in Newport Beach.
Newport Beach's Pacific Financial Plaza ranks among Southern California's most prestigious and distinctive corporate complexes. The building's management group has adopted a branding strategy that promotes the property as an exclusive, upscale business address. They contracted the WRAPPED Studios corporate art consulting team to develop and create a custom artwork collection in order to better market the space to upscale business clients.
We developed the project in close consultation with Irvine Company, the building's management group. In the end, the client approved a series of large-format custom canvas artworks for the building's interiors.
Conceived by our corporate art consulting professionals, this collection's centerpiece is a bright, colorful, large-format abstract painting featuring a high-contrast color scheme. It now lives in the bright lobby that welcomes those arriving at 840 Newport Center Drive from the complex's outdoor motor court. 
The most successful aspect of the piece is the way it draws the eye through tonal differentiation from its surroundings. Adding a burst of color to an otherwise neutral interior design scheme, the piece symbolizes the boundless creativity so essential to business success. Its lines and shapes also create a powerful sense of upward movement, representing the corporate drive for competitive excellence.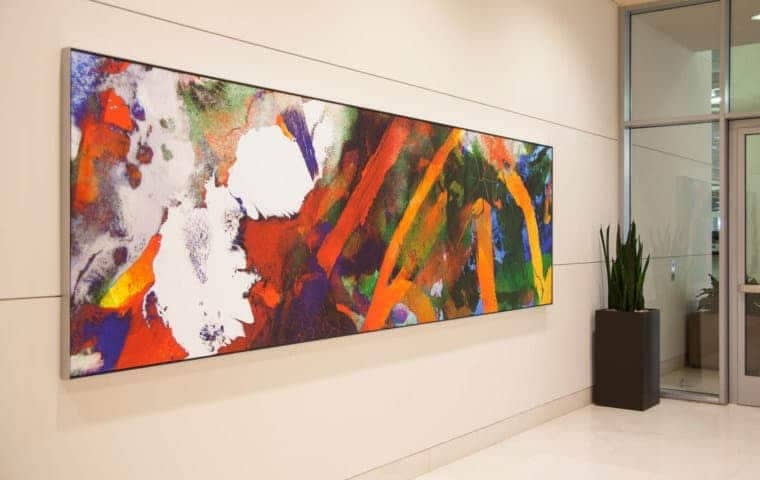 Order your own bespoke custom collection by contacting our corporate art consulting professionals.
Our success at 840 Newport Center Drive is a testament to our studio's client-centered approach to custom art procurement. Clients from around the world rely on our corporate art consulting team to create the perfect artworks for their spaces, and we deliver every time at prices you will find surprisingly affordable.
Every aspect of our process, from initial corporate art consulting to the framing of the finished artworks, takes place in house. Thus, we can carefully control costs and pass those savings on to our clients.
If you would like to order custom artwork for your corporate space, or if you have any other questions about our company or our process, please contact WRAPPED Studios to learn more.