The WREN: another case study in how WRAPPED's art design consultants add value to prestige residential developments.
The WREN is a seven-story luxury residential development in downtown Los Angeles, featuring 362 stylish leased units at the junction of Pico Boulevard, Olive Street, and Hill Street. A cornerstone of central LA's growing South Park neighborhood, the WREN has quickly become one of the district's most desirable addresses. It stands as a shining example of the transformative revitalization that has recently restored downtown LA's historical prestige, and we are pleased to report that our art design consultants made major contributions to the project's incredible success.
Downtown LA has seen a large number of high-end residential developments in the past few years as the area's appeal to young professionals continues to surge. To differentiate the WREN and establish its status as a trendsetting space, the building's management team contracted our art design consultants to conceive and create a cohesive, branded living experience. The end objective was to put together a creative, dynamic, and aesthetically unified space with particular appeal to the millennial clients who make up the majority of the WREN's tenant base.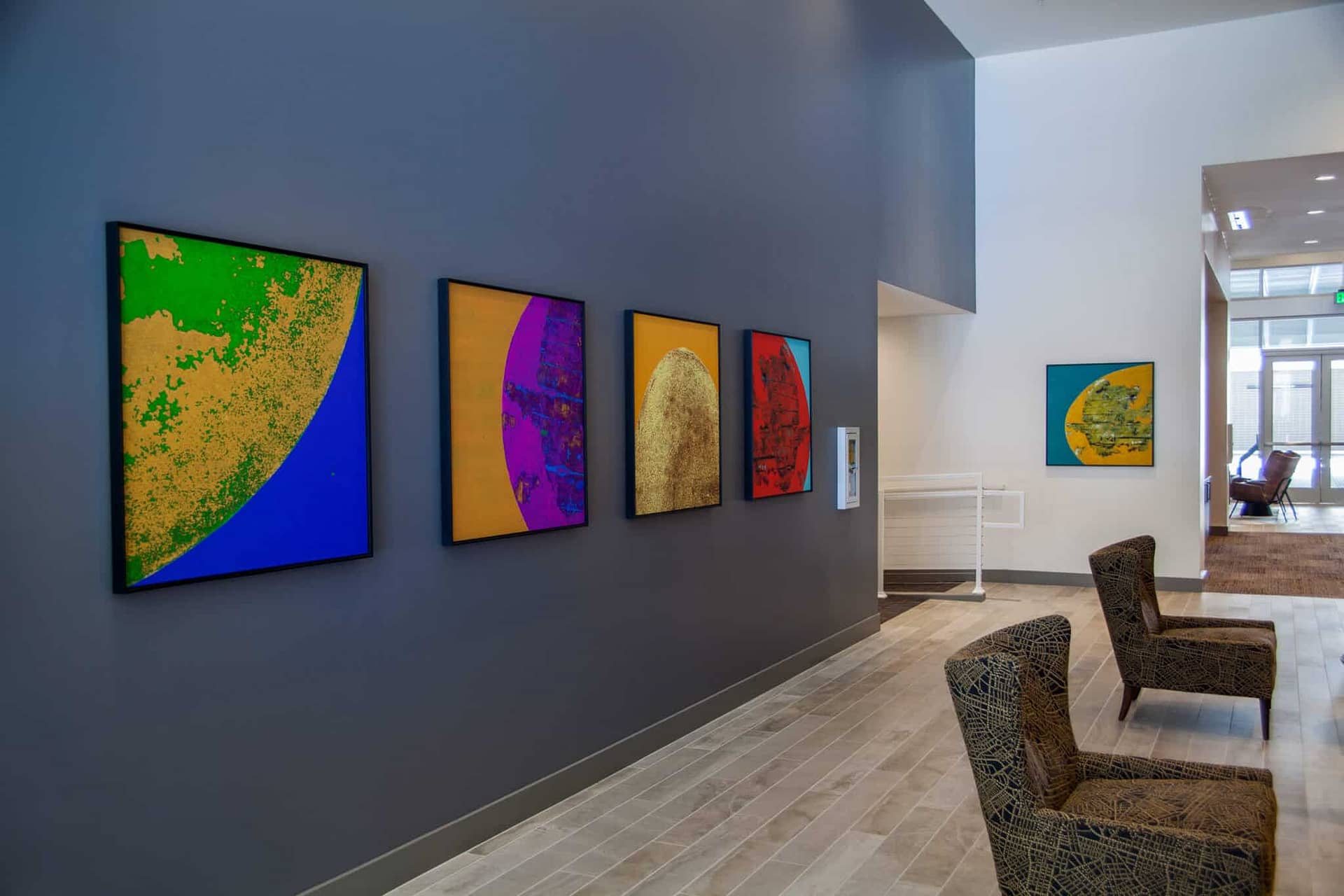 Our team of art design consultants played a key role in creating a dynamic and appealing space that helped make the WREN a major success.
Working in close consultation with WREN management, our art design consultants conceived an imaginative and modern aesthetic that incorporated bold creative choices across a variety of design styles. This creative approach yielded highly successful results, complementing the WREN's green color motifs and leading to energetic, invigorated interiors without overpowering the effects of the underlying architecture.
In total, WRAPPED contributed more than a dozen pieces of commissioned artwork, which are now featured in the WREN's leasing office, amenity areas, and common spaces. Beyond a captivating grid-form group of smaller-format works, our art design consultants also oversaw the production of an arresting quadriptych that earned particularly high praise from both tenants and the building's management.
The WREN is one of many prestigious residential buildings our art design consultants have helped to brand, transform, and position to attract a desirable base of clients and tenants. Our in-house team of expert consultants and highly talented artists is also available to owners of private residences, hospitality facilities, and commercial properties. For more, please visit our gallery of successfully completed past projects.
WRAPPED is also able to provide these services at below-market rates, thanks to a unique business model that brings art directly to clients without markups, and without middle-men. To engage our world-renowned art design consultants, or for further information, please contact us.