Curate a thriving and creative professional environment with art for coworking spaces.
The Vine is an upscale coworking space and community collaboration hub located in Orange County, California. Its ownership group, the Irvine Company, recently retained WRAPPED Studios to create a collection of bespoke artwork for the property. The resultant pieces make an excellent case study of the benefits of art for coworking spaces.
During the COVID-19 pandemic, millions of people around the world reimagined their relationships with work. Remote, offsite, and hybrid work arrangements became commonplace. As legacy workplaces were cleared to reopen, many companies and their employees realized they preferred to continue pursuing innovative alternatives to the traditional office.
This, in turn, has prompted a sharp rise in the popularity of coworking spaces, innovation hubs, and entrepreneurial incubators. Custom art for coworking spaces is an excellent way to foster the kind of creative and energetic environment that define these types of work spaces.
Our project at The Vine contributed multiple pieces to the property, including two colorful large-format framed canvases and several smaller pieces executed using aluminum and acrylic media. The bright, vibrant pieces now elevate the dynamic and invigorating character of The Vine, inspiring the 80-plus startups and entrepreneurship hubs that reside within its walls.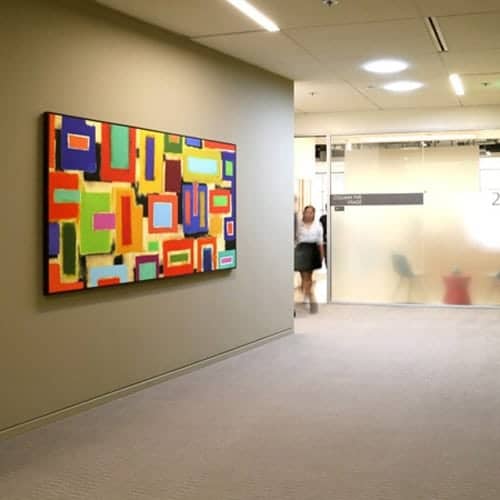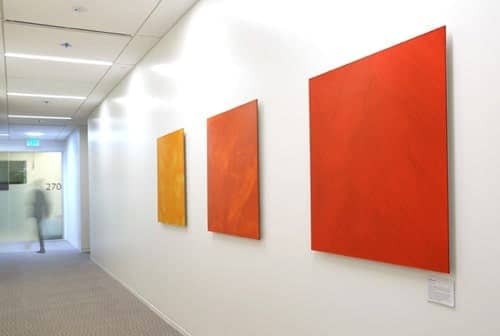 WRAPPED Studios uses a unique process to create bespoke art for coworking spaces.
The WRAPPED Studios leadership group has developed a unique development and production process that differentiates our collective as a leading provider of custom art for coworking spaces. This process is built around the studio's extensive human capital assets, which include full-time expert advisors, artists, and technical personnel.
These professionals' combined talents enable our studio to guide the development of custom art projects of any scope. Once the client signs off on a proposal, we entrust our world-class artists with creation duties. The end result is gallery-quality bespoke artwork for controlled prices that are significantly lower than those charged by many other custom art studios.
To learn more, or to arrange a consultation to discuss art for coworking spaces in further detail, please contact us.