The WRAPPED Studios team recently completed a highly successful custom office art collection for The Commons in Pasadena.
We are often contacted by commercial property management and ownership groups looking for custom office art. It takes a great deal of time and effort to source the right pieces on the secondary art market, and our streamlined production process makes it much easier for them to achieve their objectives.
Our recent work with The Commons offers a recent example. The Commons is a stylish boutique commercial property in the Los Angeles suburb of Pasadena. It features contemporary open-concept interiors, which the building's management group wanted to enhance. Specifically, they were seeking a custom collection with a serene, calming feel to invigorate the space without being a distraction.
During our consultation sessions with the client, our office art consultants proposed a series of abstract landscape pieces. The artworks feature a color palette that matched the client's existing interior design strategy, and our talented production team delivered a series of highly successful finished products.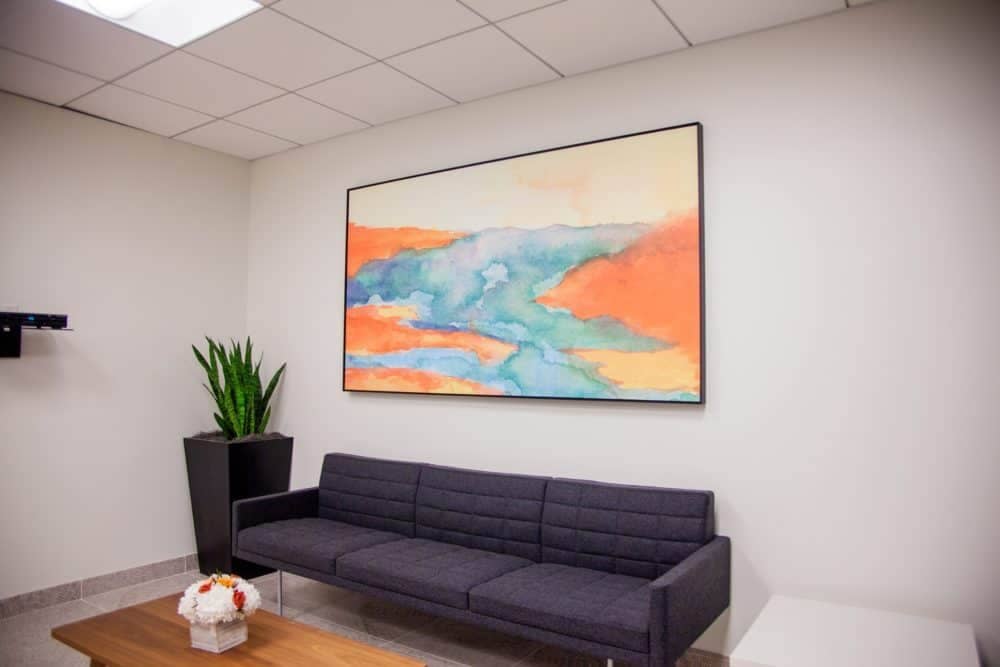 Our unique office art production process delivers gallery-quality results for prices our clients find surprisingly affordable.
We are able to deliver custom, bespoke office art of exquisite quality at highly advantageous prices. This is because we use a unique system built around complete in-house assets. The WRAPPED Studios team consists of insightful art consultants along with talented artists, production technicians, and framing experts. Their collaborative approach guides all projects from start to finish. 
Many other custom art studios rely on outside contractors, which tend to increase project budgets. As a result, their clients pay more. We rely exclusively on permanent employees, allowing us to control costs and pass significant savings on to you.
Our process also puts you in complete control of the artwork's style, format, media, and color scheme. This allows our clients to order artwork that perfectly matches their objectives and avoid the hassles of trying to find the right piece themselves.
If you would like to learn more about our studio, or if you would like to arrange an office art consultation, please contact a member of our client services team.