Our studio's recent hospitality artwork for the luxurious Hotel Crillon showcases our team's world-class talents. 
Rosewood Hotels & Resorts recently commissioned WRAPPED Studios to create a hospitality artwork plan for the Hotel Crillon in Paris. The resultant products offer a highly successful example of how our consulting and creative teams collaborate and combine to deliver gallery-quality results.
Hotel Crillon is a high-profile landmark in one of the world's most celebrated and beautiful cities. The property dates to the 18th century, when it was commissioned by King Louis XV (1710-1774) to serve as a palatial headquarters for French government operations. It was designed by renowned architect Ange-Jacques Gabriel (1698-1782), whose other works include Paris's Place de la Concorde and multiple features of the royal Palace of Versailles.
Rosewood Hotels & Resorts acquired the property in 2013 and committed to an ambitious plan to convert it into a luxury hotel. The successful renovation preserved and restored the building's historic facade while transforming its interior into one of the most luxurious and prestigious hotels in the city. It is now a favored destination of heads of state, business magnates, dignitaries, and celebrities visiting the French capital.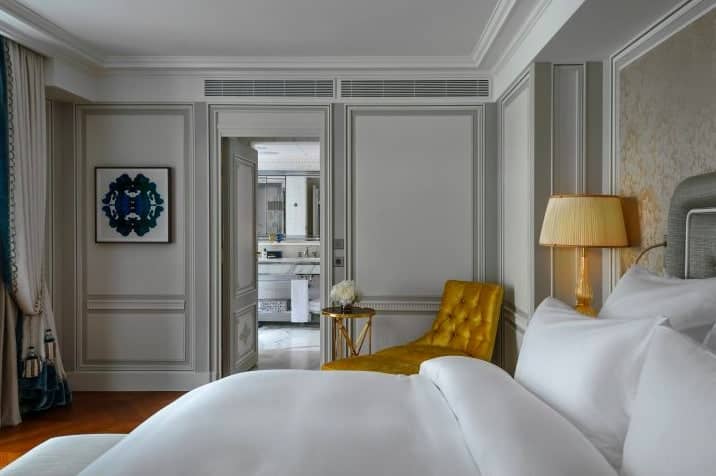 WRAPPED Studios produces hospitality artwork that captures and expresses the defining character of every property.
The history and high profile of Hotel Crillon demanded a sophisticated and luxurious yet timeless approach with broad compatibility. Hotel Crillon attracts upscale clientele from around the world, which demanded hospitality artwork with universal appeal. Together, our expert consultants and talented in-house creative team arrived at a strategy built around classic, straightforward designs rendered on premium canvas substrate.
We are honored to have played a part in the storied history of this iconic and breathtaking Paris landmark. The fact that our studio won a competitive process to earn the commission is a proud testament to our standing in the international arts community.
Our studio would be happy to lend that very same hospitality artwork expertise to your hotel or resort, or to any other residential or commercial building in your portfolio. To learn more or arrange a consultation, please contact a member of our client services team.