WRAPPED Studios contributed gallery-quality corporate lobby artwork as a finishing touch to the City Plaza office complex renovation.
City Plaza is a high-profile office complex near the Pacific Ocean coast in Orange County, California. The acclaimed Gensler architecture studio recently carried out a renovation project at the property, and was seeking to finish its interior redesign with custom corporate lobby artwork. In this capacity, they commissioned our studio to create an original diptych on canvas.
To develop the corporate lobby artwork, our consultants and artists carried out a site-specific assessment of the property to evaluate its aesthetic character and defining features. The client ultimately approved our proposal for an abstract canvas diptych that evokes the calm marine serenity of the nearby Pacific.
The paired works now occupy adjacent interior walls leading to the lobby elevator court at City Plaza. They reflect the quiet, distinguished, and elegant character of the building, capturing its essence while simultaneously contributing a novel design element.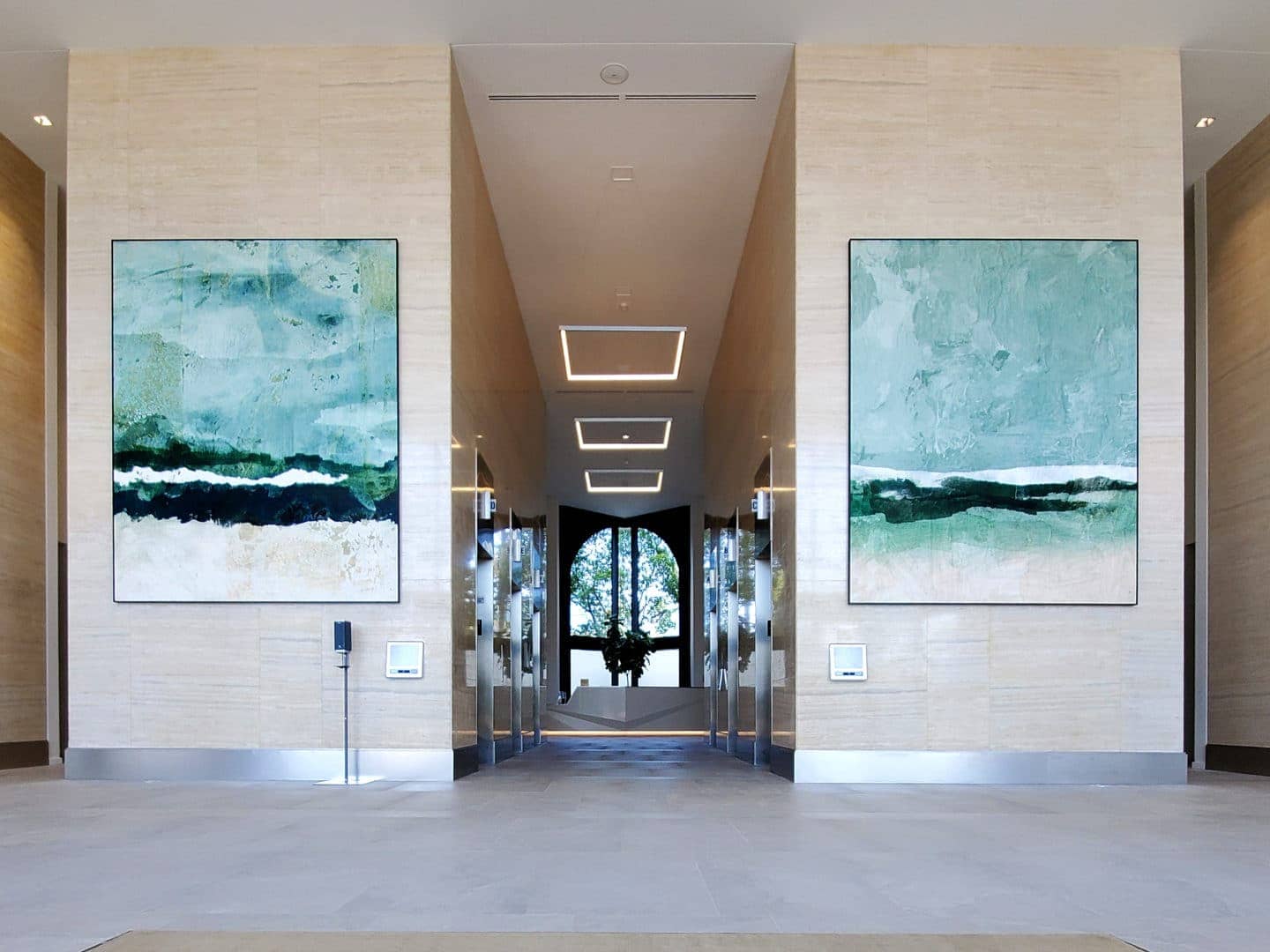 Our Southern California art studio creates corporate lobby artwork for a global base of clients.
Corporate lobby art plays a vital role in setting a desirable tone and mood. Companies use art to express their values and advance their objectives in many ways: artwork displays a commitment to creative thinking and affirms that a business places high value on cultural and artistic expression. It also signals heightened engagement with aesthetics, building a sense of refinement and exclusivity.
To these ends, clients from around the world engage our studio to create customized corporate lobby art. We can produce the work on site, shipping the finished products to you using the industry's most secure and efficient delivery methods. Depending on where you're located, our technicians can also hand-deliver the final artwork, installing it using the same specialized techniques utilized in museums and galleries.
In addition to City Plaza, we have recently completed custom art projects for commercial and corporate facilities including:
Best of all, we make the benefits of corporate lobby art financially attainable for practically any project budget. To learn more, please contact our Southern California-based studio.