WRAPPED Studios creates stunning custom office lobby art for high-profile commercial properties such as 600 Newport Center Drive.
Newport Beach, California's Fashion Island is one of the highest-profile and most prestigious shopping and retail destinations in Orange County. The Irvine Company maintains one of its flagship commercial properties in the storied enclave: a prestigious office complex on Newport Center Drive. WRAPPED Studios proudly contributed custom office lobby art to the property, showcasing our studio's ability to create bespoke works of gallery-quality made-to-order art for corporate clients.
At the outset of the project, the client revealed a desire to create a stronger sense of warmth and friendliness in the space while maintaining its elegant, upscale character. Our internal team of expert consultants applied their penetrating insights specific to corporate lobbies to propose a unique collection.
The resultant large-format canvases use energetic forms of abstraction and vibrant hues on the warm end of the color spectrum to generate results that perfectly align with the client's stated objectives. Our work at 600 Newport Center Drive was one of three such commissions we completed for the client, who also owns Newport Beach's adjacent Pacific Financial Plaza.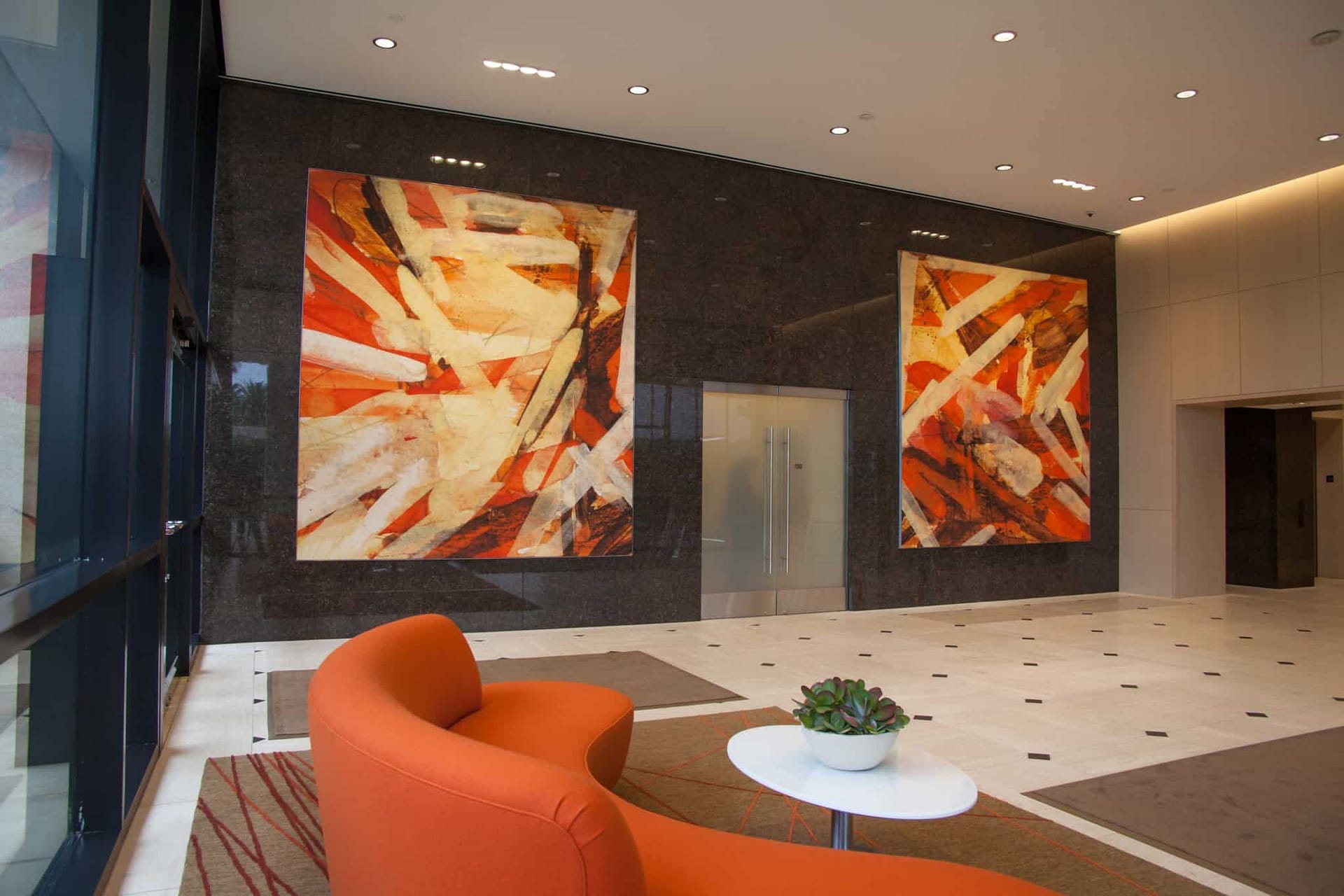 Custom office lobby art offers commercial property owners and managers a cost-effective alternative to the time-consuming task of searching the secondary art market.
Our work at 600 Newport Center Drive and the Irvine Company's other Newport Beach properties highlights the value of ordering custom office lobby art. This client, like most who approach our studio, had very particular ideas in mind for the mood, tone, and purpose of the artwork even if they did not have a specific form or vision in mind. Many who wade into the secondary art market under similar circumstances quickly find their time and energy overwhelmed by a seemingly endless set of options.
Custom lobby art delivers an efficient, cost-saving alternative. Clients who order custom decor through WRAPPED Studios remain creatively involved in the process, yet liberated from the overwhelming task of perusing thousands of artworks in search of the ideal piece. Instead, we create it for you based on your input, ideas, and objectives.
To learn more about our studio and our work, or to schedule a consultation with one of our custom office lobby art specialists, please contact us.