Custom office lobby art offers a high-impact way to curate and brand corporate spaces. Our studio's work at the 300 Spectrum Center in Newport Beach offers a prime example.
Locally famous for its iconic status, innovative architecture, and stunning French limestone facade, 300 Spectrum Center is a major commercial complex in the coastal California city of Newport Beach. The property is owned and managed by the Irvine Company, a major real estate development and management group.
The Irvine Company decided it was time to refurbish the building's interiors in a bid to curate a more carefully cultivated and branded visitor and tenant experience. It commissioned WRAPPED Studios to create a unique collection of custom office lobby art for the property, which our corporate consulting specialists developed in close cooperation with the client.
Specifically, the Irvine Company sought to invigorate the space with artwork worthy of its grand and elegant setting. Our studio responded with plans for four large-format abstract canvases defined by intense, highly saturated color schemes. The final pieces feature custom-built aluminum frames and were strategically placed in juxtaposition with 300 Spectrum Center's signature travertine walls.
This highly successful custom office lobby art project continues to function as a focal centerpiece of 300 Spectrum Center's grand foyer, inspiring awe and serving as an inspirational breath of creative fresh air.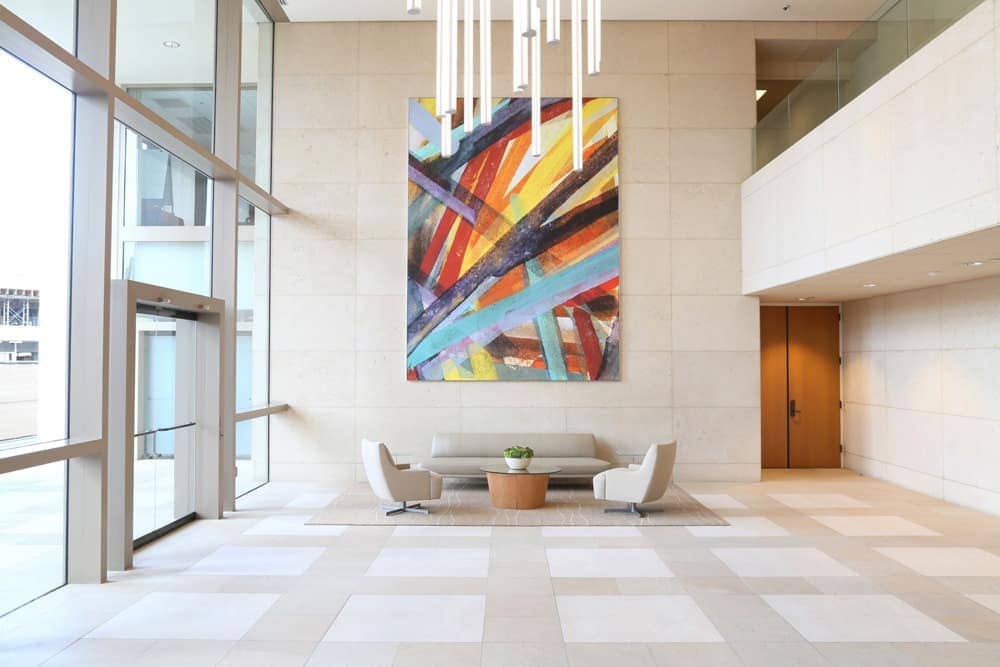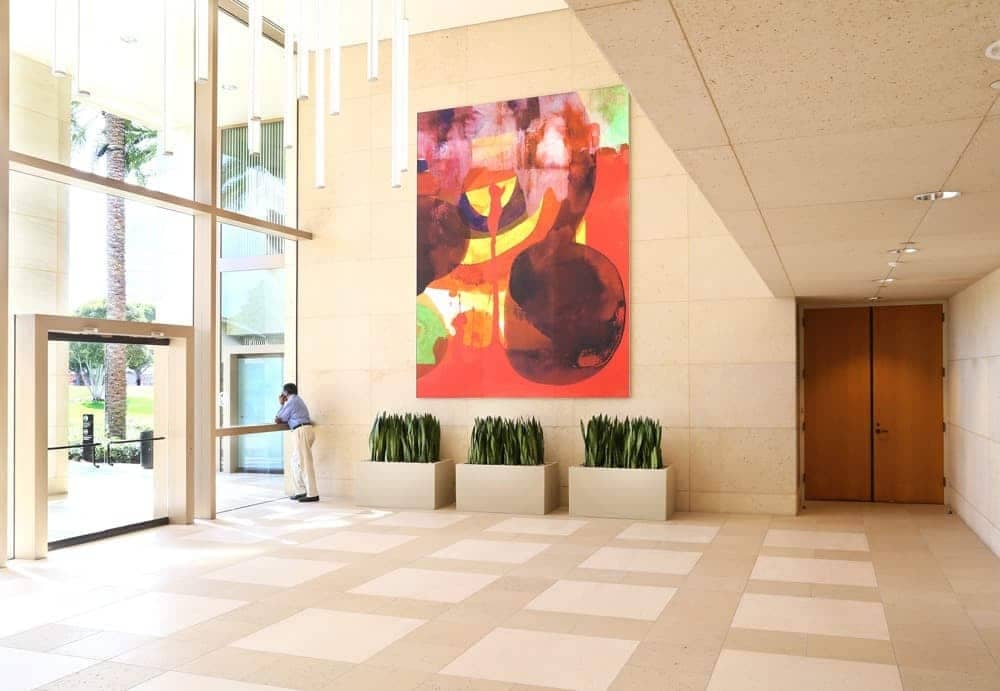 WRAPPED Studios provides custom office lobby art creation services to a global client base.
Custom office lobby art offers clients an efficient and cost-effective alternative to the daunting and time-consuming task of seeking appropriate pieces on the secondary art market. It also empowers property owners and management groups seeking to source pieces with a highly specific impact, as it grants them complete and precise control over the artwork's look, tone, and style.
WRAPPED Studios is a forward-facing artistic collective headquartered in the Los Angeles area. We specialize in creating gallery-quality custom office lobby art for a global base of prospective clients. If you would like to learn more about our studio and our work, or if you would like to schedule a session with one of our expert consultants, please contact us.