Our studio created custom residential lobby art for Franklin Street in Redwood City, an Irvine Company apartment community.
Franklin Street is a next-generation high-density residence in Redwood City, California. The amenity-rich property is owned and managed by the Irvine Company, which commissioned WRAPPED Studios to create custom residential lobby art to supplement the complex's warm and welcoming interior design aesthetic.
The Franklin Street development features several defining elements the client sought to augment with this project. First and most importantly, the building has a friendly neighborhood vibe that reflects the welcoming tone of downtown Redwood City. Our advisors and artists prioritized strategies for capturing this in the artwork. 
Next, our team looked for creative ways to reflect the Franklin Street building lobby's existing decor and features. We solved this challenge by creating an abstract design that complements the visual orientation and shape-forms of the space's flooring and lighting elements.
In the end, we submitted an aluminum triptych rich with warm red and browns to the client. This stunning work of custom residential lobby art now graces the main foyer of the Franklin Street complex.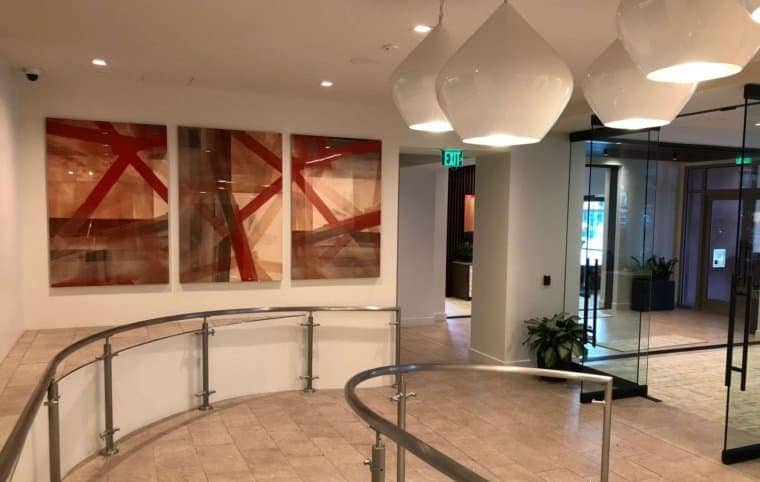 Custom residential lobby art is a cost-effective branding strategy for property developers.
The Franklin Street project serves as an excellent case study for the positive impacts of residential lobby art. Artwork has a subtle but powerful psychological and emotional effect on viewers, working to define and augment the character of refined interiors. This broadens the property's appeal to target demographic groups and preferred tenants.
Over the long term, this can lead to:
Reduced vacancy rates

Higher levels of tenant satisfaction

A stronger and more positive residential community
Custom artwork offers an especially efficient way to realize these benefits. Clients can save time by ordering bespoke artwork rather than sinking untold hours into searching secondary markets for matching pieces. WRAPPED Studios also uses a unique process built around the near-exclusive use of in-house assets, which reduces costs and makes custom artwork surprisingly attainable from a financial standpoint.
If you would like to learn more or order custom residential lobby art for your property, please contact a member of our client services team.