Office lobby artwork transforms underdeveloped interior spaces into inviting areas that make a positive psychological and emotional impact. 
Managed by the Irvine Company, 101 Broadway is an upscale commercial complex located in downtown San Diego. Seeking to augment its prestigious character, the property's management group commissioned our studio to develop and create a new collection of office lobby artwork. Specifically, 101 Broadway's management sought a series of high-visibility focal pieces for display in the building's main entrance foyer.
After performing a series of consultations and site visits, our expert in-house consultants proposed an office lobby artwork collection based around abstract shape-forms and a warm palette to complement the lobby's established color scheme. The final collection includes two main elements: a large-format framed canvas measuring 20′ in width and a grid-like array of eight acrylic-on-canvas works set on an opposing wall.  
The 20′ canvas now functions as the collection's centerpiece, adorning the wall above a segregated ramp in a high-traffic area of the lobby. Meanwhile, the eight acrylic works play an important complementary role, reinforcing the contemporary character of the foyer's reimagined aesthetic while creating a tangible sense of thematic unity.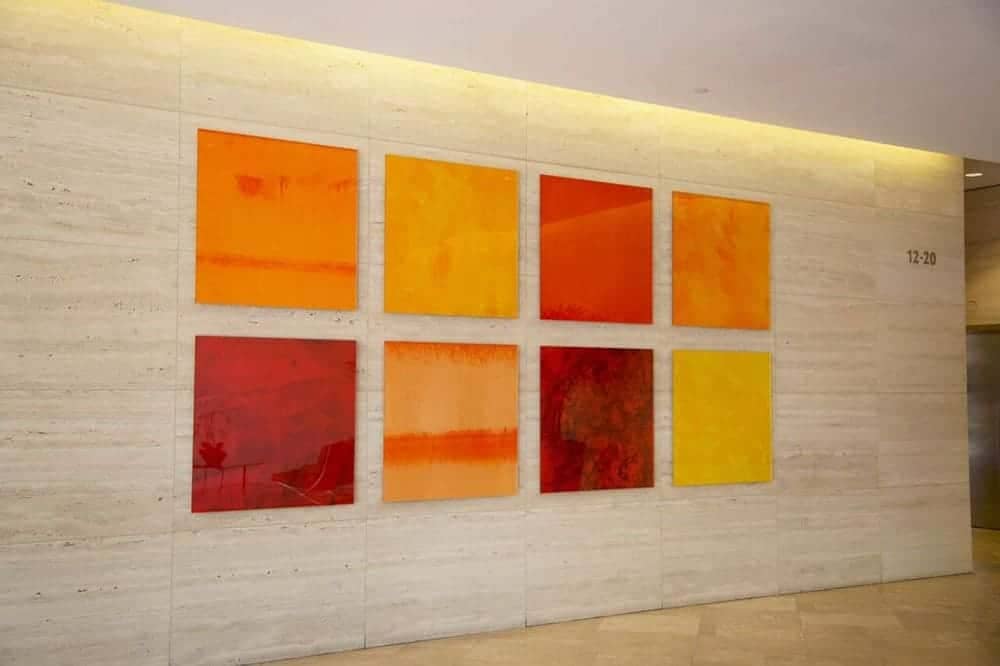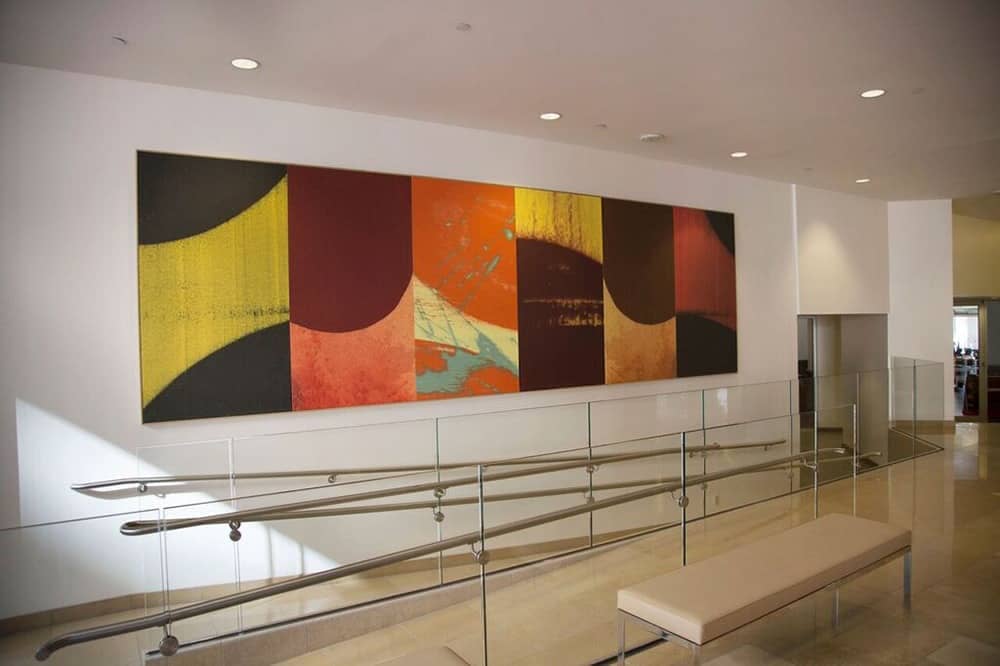 The power of office lobby artwork makes it an important tool for property management groups seeking to reduce vacancies and improve occupancy rates.
The positive psychological, emotional, and commercial impacts of office lobby artwork are well-documented. Art plays a significant but easily overlooked role in creating a branded and curated spatial experience. It can extend and fortify the impact of an office interior's existing design and tone, as was the objective for our 101 Broadway project. Yet, artwork can also play a larger role in establishing that tone, thanks to its strong associations with cultural refinement and an elevated sense of exclusivity.
Office lobby artwork instantly creates a pervasive and enhanced sense of sophistication, which tends to align with the values and ideals many companies actively seek to cultivate. Thus, its presence exerts an understated yet powerful impact in viewers, which can yield positive results in multiple ways:
Properties with effective office lobby artwork tend to have an easier time attracting tenants and retaining them for the long term

Office visitors enjoy a more refined experience, increasing the likelihood that they will emerge with a positive impression

Employees report strong psychological benefits, and 

recent studies show

 that this can increase their productivity and 

job satisfaction

 
Our Southern California studio produces custom office lobby artwork for a global client base. To learn more, or to schedule your initial session with one of our in-house art experts, please contact us.